Registration


April 18, 2020




10:00 am - 4:00 pm
This is a basic introduction to the major power tools in the Community Woodworking Shop: the planer, joiner, table saw, chop saw, and bandsaw. Safety basics and familiarity with our shop equipment are the goals of this one-day class. We will go over the basics of squaring material, making adjustments on the machines, and staying safe while doing it. No previous experience necessary; those with woodworking experience can benefit from this one-day overview, as well as those at the beginner level. This is a great first step to completing that woodworking project you've been dreaming of during Rent-a-Bench hours.
Saturday, April 18th
10 a.m. – 4 p.m. (with 1/2 hour break for lunch)
Instructor: Henry Banks
Tuition and materials: $40
Class limit: 6 participants
We need at least 2 participants to continue with the class
Ages: 18+ to register
We'll meet at Tear Cap Workshops in the Community Woodworking Shop.
Please bring your own bag lunch (We have a refrigerator and microwave available if needed!)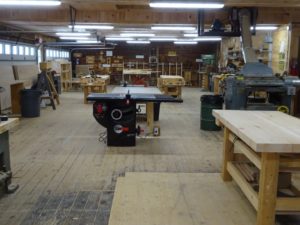 About the Instructor, Henry Banks:
Henry originally moved to Bridgton, Maine in 1978 to answer a help-wanted ad for a cabinetmaker position. Ever since, Henry has been a carpenter, cabinet maker and general contractor, based in Denmark, Maine for the last 35 years. He founded the H.B. Wood Company, Inc in 1983 and has been the principle ever since. In addition to building custom homes, cabinetry and furniture, he has also trained, encouraged and mentored a large number of apprentices, many of whom later went on to build their own homes. Although formally a carpenter, Henry has also been a teacher and active community member, involved in the founding of three other non-profit organizations in the area. Henry is a co-founder of Tear Cap Workshops.
Venue Phone: 207 625 3396
Venue Website: tearcapworkshops.org
Address:
22 Hampshire St
,
Hiram
,
Maine
,
04041
,
United States