Event Phone: 207-625-3396
Pottery - Day 1


November 2, 2023




9:00 am - 12:00 pm

Pottery - Day 2


November 9, 2023




9:00 am - 12:00 pm

Pottery - Day 3 - Pick up


November 16, 2023




9:00 am - 12:00 pm
Fun with Clay – for the first time ever at Tear Cap Workshops, November 2nd and 9th!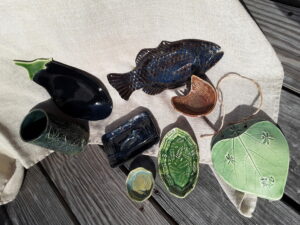 Come explore the wonderful world of hand-built pottery! Fun, exciting and relaxing — the possibilities are endless when creating hand-built items.
On the first workshop day, participants will form their hand-built pottery pieces from a choice of two types of stoneware: a smooth white clay, or a groggy (flecked) dark, red-brown clay. Hand-built items will be rolled and shaped using cutters, knives and molds. We'll experiment with texture using plant material, lace, embossed paper and stamps. We can also leave some pieces smooth and blank for decorative underglaze work.
After the first workshop, all of the pieces will be fired to prepare them for glazing on the second workshop. Participants will have a lovely palette of colors to choose from for glazing and underglazing on that second workshop day. Then, it's back to the kiln for a final firing. Pick up is on the third workshop day. Each participant will take home between 3 – 8 pieces of hand built pottery, depending on size and complexity of the pieces. All skill levels welcome.
Hand-Built Pottery Workshop
Thursdays, November 2nd and 9th
9 a.m. – 12 p.m. Participants are welcome to stay for lunch after class if desired. (Please bring your own bag lunch.)
Pick up completed pieces on (or anytime after) Thursday, November 16th. at 9 a.m.
Instructor: Kathy Banks
Cost: $115 tuition and materials
Class limit: 8 participants (and we'll need at least 4 participants to continue with the class.)
Items students need to bring to class: Any textures or stamps you'd like to try, an apron if desired, and please wear clothes you don't mind getting dirty, just in case.
This class is designed for those ages 18+.  We ask all participants to be vaccinated for COVID-19.
We'll meet at Tear Cap Workshops in the Community Woodworking Shop.
A big thank you to Blick Art Materials for sponsoring this event!
About the Instructor, Kathy Banks:
Kathy Banks is passionate about pottery and many kinds of art forms.  Her work is informed and inspired by her gardens and the natural world.  She taught elementary art for 16 years and before that, science and environmental education.  Currently, she teaches at the Denmark Arts Center, Pleasant Mountain Fiber Arts Workshops, and Tear Cap Workshops.  She sells her pottery, artwork and cut flower bouquets at the Bridgton Farmers Market and at local venues and events.  She loves to share her joy of working with clay with learners of all ages.
Venue Phone: 207 625 3396
Venue Website: tearcapworkshops.org
Address:
22 Hampshire St
,
Hiram
,
Maine
,
04041
,
United States