Event Phone: 207-625-3396
November 5, 2023




1:00 pm - 4:00 pm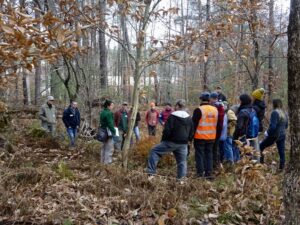 Invasive Plant Management Workshop with Deb Perkins of First Light Wildlife Habitats
Join us for an informative presentation led by Deb Perkins, followed by an interactive forest walk with a focus on invasive plant identification and methods for removal. Groups of participants will then apply their collective knowledge to a focal area of the grounds. This community work will release native plants and allow them to flourish for the future! Participants will have the chance to try out a weed wrench and other tools as well.
We'll end the workshop with a small, celebratory bonfire (weather permitting).
Come learn from one another to protect biodiversity – at Tear Cap, and on any piece of land you care for.
Please call 207-625-3396 or email info@tearcapworkshops.org for more information.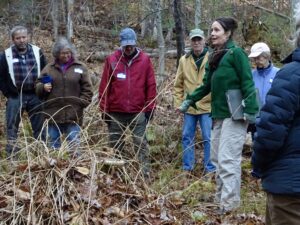 Invasive Plant Management Workshop

Led by Deb Perkins of First Light Wildlife Habitats
Sunday, November 5th – with a rain date of Sunday, November 12th
1 p.m. – 4 p.m.
$20 Registration
Space is limited to 15 participants, and we need at least 6 people to continue with the class.
Ages 18+
Please wear (or bring) work clothes, sturdy shoes, and gloves for the hands-on portion of the workshop.
We ask all participants to be vaccinated for covid-19, and be willing to wear a mask for the indoor portion of the workshop if necessary.
About the instructor:
Deborah Perkins is a wildlife ecologist with 25 years of experience and a lifelong commitment to wildlife conservation.  As "The Personal Ecologist" and the owner of First Light Wildlife Habitats, Deb co-creates thriving yard, farm, and forestland habitats with stewards throughout the Northeast – at any scale. Deb's infectious enthusiasm and dynamic speaking style leave people feeling inspired, hopeful and ready to take action.
More information about Deb and First Light Wildlife Habitats can be found at: https://www.firstlighthabitats.com/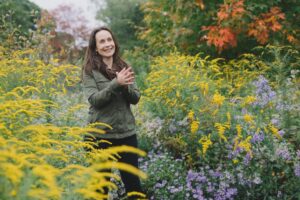 Venue Phone: 207 625 3396
Venue Website: tearcapworkshops.org
Address:
22 Hampshire St
,
Hiram
,
Maine
,
04041
,
United States