Event Phone: 207-625-3396
We're sorry, but all tickets sales have ended because the event is expired.
Registration - Day 1


July 12, 2022




9:00 am - 4:00 pm

Registration - Day 2


July 19, 2022




9:00 am - 4:00 pm

Registration - Day 3


July 26, 2022




9:00 am - 4:00 pm
Woodworking Class: Make your own Pine Sitting Bench
Come learn the basics of joinery with a pine sitting bench. This project focuses on handwork and uses home-grown Tear Cap pine for a classic look and functional design. A center mortise and half-lapped joints creates a sturdy, elegant bench with a minimum of hardware. It's also light enough to carry easily, and strong enough for a variety of applications – sitting, kneeling, or storage. Whether you're a rusty beginner, or looking to refine some hand work skills, this is a great project to start with.
Participants will start by making half laps by hand (using a handsaw, chisel and mallet), then proceed to mortise-and-tenon the legs and center supports, making an oak pin to secure the joint. The top of the bench will be supported with an extra cleat, and after sanding the seat planks, the bench will be secured and fastened.
Rusty beginner level and up recommended. Absolute beginners may need more time to complete their bench. Participants should be prepared for a day of moderate exertion.
Class Duration, Description and Cost:
Class time is over three consecutive Tuesdays: July 12, 19, and 26th
9 a.m. – 4 p.m., each day (with 1/2 hour break for lunch)
Additional shop time is available on Wednesdays and Thursdays 9 – 5 at no additional cost for participants for any needed catch-up time
Instructors: Henry Banks and Eve Abreu
Tuition and materials: $280
Class limit: 4 participants
We need at least 2 participants to continue with the class
Ages: 18+ to register
All tools, supplies, and materials will be provided for the class
We'll meet at Tear Cap Workshops in the Community Woodworking Shop.
We are asking all participants to be vaccinated for covid-19 if they would like to attend this workshop. We may also still be wearing masks, depending on state guidelines.
Please bring your own bag lunch! (We have a refrigerator and microwave available if needed!)
Additional bench kits – all the pine you'll need and two oak pins – are also available for $45. Make a set or make another as gift!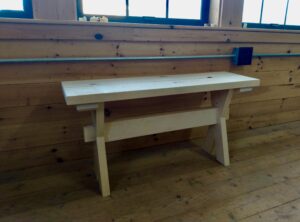 About the Instructors:
Henry Banks:
Henry originally moved to Bridgton, Maine in 1978 to answer a help-wanted ad for a cabinetmaker position. Ever since, Henry has been a carpenter, cabinet maker and general contractor, based in Denmark, Maine for the last 35 years. He founded the H.B. Wood Company, Inc in 1983 and has been the principle ever since. In addition to building custom homes, cabinetry and furniture, he has also trained, encouraged and mentored a large number of apprentices, many of whom later went on to build their own homes. Although formally a carpenter, Henry has also been a teacher and active community member, involved in the founding of three other non-profit organizations in the area. Henry is a co-founder of Tear Cap Workshops.
Eve Abreu:
Eve is a wood artisan who is fulfilling her dream of working creatively. Drawn to nature, and wood in all its forms, from twigs to aged wood, Eve also uses found objects to create folk art and country style furniture. By adding a dose of whimsy, Eve's work creates unusual objects that call out to the viewer, asking us to think differently and appreciate our natural surroundings. Eve has also dabbled in furniture restoration, which involves learning about the history of a piece and the puzzle of taking it apart and putting it back together so it can be enjoyed for future generations. Eve also serves on Tear Cap Workshops' Board of Directors.
More about Eve at: http://maine-rustic.com/
Venue Phone: 207 625 3396
Venue Website: tearcapworkshops.org
Address:
22 Hampshire St
,
Hiram
,
Maine
,
04041
,
United States